SEI SHIN KAN KARATE PROGRAM
SEI SHIN RYU POWER KARATE
Sei Shin Ryu Karate is a very pure, original and traditional percussion style that is well known as being practical and combat effective. In Japan Sei Shin Ryu Karate is called Power Karate due to its dynamic nature. The difference between Sei Shin Ryu Karate and other Karate styles is that it still incorporates classical weaponry and the original grappling and pressure point applications of techniques as was done originally for combat. Sei Shin Ryu Karate places no emphasis on tournament or sport competition. Sei Shin Ryu Karate is registered in Japan with the Toitsu Karate Kai, the World Union of Karate-Do Organizations (W.U.K.O.) and with Sei Shin Kan International.
SEI SHIN KAN KARATE PROGRAM WAZA
SSK POWER KARATE KUMITE COMBO Click HERE to see Viol Shihan and SSK Power Karate in Action.
SEI SHIN KAN KARATE PROGRAM STAFF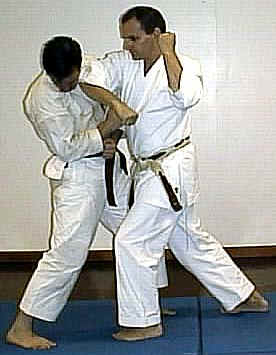 The Chief Instructor for the Sei Shin Kan Karate program is
John Viol Shihan
. Viol Shihan is the only non-Japanese ever to win the elite bare knuckle full contact All Japan Karate Invitational Championships 4 consecutive times in which he also took top honors in empty hand Kata and Buki Jutsu Kata divisions. He was nicknamed Kazan (Volcano) by his peers in Japan because of his sudden explosiveness and overwhelming coverage of his opponents during the championships. Afterwards he was invited to several Dojo in Japan to share his fighting tactics. In the 70's Viol Shihan won the Ohio State Championships 3 years in a row. He has also won several Gold Medals at sanctioned A.A.U. and U.S.A.K.F. tournaments in Kata and Weaponry Kata divisions. Click
HERE
to see the Viol Shihan Photo Gallery or
HERE
to see photos of Viol Shihan receiving
Awards in Japan
. Click
HERE
to see the other Sei Shin Kan Karate Program
Staff Members
.
SEI SHIN KAN KARATE PROGRAM SCHEDULE
MON
TUE
WED
THU
FRI
SAT
SUN
BASIC
ADVANCED
GOSHIN JUTSU*
All students are welcome to come in and train during open times.
SEI SHIN KAN KARATE PROGRAM RELATED LINKS