SEI SHIN KAN SOGO BUJUTSU / BUDO DOJO
CULTURAL EXCHANGE THROUGH JAPANESE SOGO BUJUTSU / BUDO
| | |
| --- | --- |
| This is the Main Entrance to the Dojo. It is a miniature Japanese Garden named Seikeizan. It is modeled after 3 different gardens from Temples that Sei Shin Kan Chief Instructor John Viol Shihan lived at while living and training in Japan | |
| | Sei Shin Kan Kamiza at the head of the Dojo. The Kamidana (Shrine) was donated to the Dojo by the Jizo-In Temple in Kyoto Japan. The Dojo Kun was brushed by Nakayama Masatoshi and given to Sei Shin Kan Chief Instructor John Viol Shihan as a gift to commemorate the grand opening of the Dojo. |
| This is one of many hand written scrolls at the Sei Shin Kan. It reads, KATSUJIN KEN - Life Giving Sword. It was brushed by Nakamura Taizaburo and given to John Viol Shihan. | |
| | One of several KANBAN found at the Sei Shin Kan. This one reads, Yagyu Shingan Ryu Hyoho Iai Jutsu. It was brushed by Ishihara Masao, one of Viol Shihan's Instructors. It is displayed to signify that the Sei Shin Kan is registered in Japan as the only official Yagyu Shingan Ryu Hyoho Iai Jutsu Dojo outside of Japan. |
A SEI SHIN KAN BRANCH SCHOOL / PROGRAM IN YOUR AREA
The Sei Shin Kan is an International
Sogo Bujutsu / Budo Dojo
that offers the highest technical level of Martial Arts instruction through a versatile schedule of course offerings for the serious enthusiast. Following the way of the classical Warrior of feudal Japan, the Sei Shin Kan offers a well rounded set of courses featuring grappling, percussion and weaponry training, the three divisions of original Sogo Bujutsu / Budo Warriors. Each course is offered as a separate entity. They are not combined to make up a mixed style but all students are encouraged to cross train with the Sogo approach and attitude towards the Martial Arts.
Sei Shin Kan International is part of an Worldwide collective of dedicated Martial Artists devoted to the promotion and preservation of authentic, traditional and classical Japanese Martial Arts. The main Headquarters for Sei Shin Kan International is located in Kyoto Japan. The United States Headquarters for Sei Shin Kan International is the Sei Shin Kan Martial Arts School located in Rochester Hills Michigan.
In Japanese, the Kanji for Sei means to cleanse or purify; Shin means heart and mind and Kan is the word for a building or hall. Put all together, Sei Shin Kan translates as "The place you go to cleanse and purify your heart and mind". The United States branch of the Sei Shin Kan and the Sei Shin Kan Budo Kai (club) were established and have been in operation in Michigan since 1977.
The Sei Shin Kan is a non-commercial school meaning that the survival of the Dojo is not dependent on student enrollment. Sei Shin Kan standards do not permit the use of contracts or testing fees. The Sei Shin Kan is one of the only full time PROFESSIONAL Bujutsu / Budo Cultural Exchange Centers outside of Japan. The main focus of the Sei Shin Kan is on the promotion of "Cultural Exchange Through Japanese Bujutsu and Budo". Sei Shin Kan training methods are based on traditional concepts which encourage the equal development of both the mental and the physical aspects of the Martial Arts. Training at the Sei Shin Kan in the U.S. is conducted very much like it is at the Hombu Dojo in Japan. Please note that the sport or competitive aspect of the Martial Arts are not stressed at the Sei Shin Kan.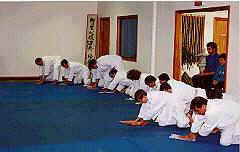 Training at the U.S. branch of the Sei Shin Kan is conducted in an authentic traditional manner much like it is at the Hombu Dojo in Japan. The Staff and students work together as a collective to ensure the success of the Dojo.
All Staff and students perform Soji after each class.
The Sei Shin Kan is kind of a co-op Dojo. No single person actually owns or operates the Dojo single-handedly. All students and staff members are equally responsible for the operation and maintenance of the Dojo. The Dojo is like a second home to the students. They take great care and pride in keeping their Dojo ultra clean and in perfect order at all times. This gives each student a better sense of self-esteem knowing that they belong to a special group of individuals interested in improving the overall quality of their lives through the study of Budo at the Sei Shin Kan.
The United States branch of Sei Shin Kan has been successful since its founding in 1977. This success has been due in large part to the fact that we seek information and confirmation on authentic Japanese Martial Arts from the highest living sources at main headquarters in Japan. Another contributing factor is that the Sei Shin Kan has a full time Staff of 12 + professionally trained and licensed instructors. Not mere Dan ranking students helping out with classes, the Sei Shin Kan staff have all gone through and graduated a grueling and intensive International Instructor Training Program and have received an actual Shidoin diploma to "give guidance" in the Martial Arts that they teach.
CLICK HERE TO SEE THE NEW SEISHINKAN / SHINBUKAN 2002 - 2003 INSTRUCTOR TRAINING PROGRAM GRADUATES - SHIDOIN LICENSE FROM JAPAN!
SEI SHIN KAN AFFILIATE ORGANIZATIONS
The Sei Shin Kan is a United States Representative Dojo for the following organizations and more:
ZEN NIHON SOGO BUDO RENMEI
ZEN NIHON TOYAMA RYU IAIDO KYOKAI
ZEN NIHON YAGYU RYU JUJUTSU RENMEI
ZEN NIHON JUJUTSU RENMEI
ZEN NIHON JUKENDO RENMEI
ZEN NIHON GOSHIN JUTSU RENMEI
ZEN NIHON KOBUJUTSU RENMEI
KOKUSAI BUKI JUTSU RENMEI
YAGYU SHINGAN RYU HYOHO IAI JUTSU
SEI SHIN KAN CHIEF INSTRUCTOR JOHN VIOL SHIHAN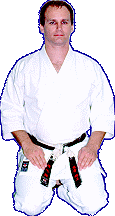 The Chief Instructor at the Sei Shin Kan is
John Viol Shihan
Mr. Viol began his Martial Arts career in 1967. He has lived, trained, tested and been certified in Japan by some of the top Japanese Martial Arts masters of our time. He is the only non-Japanese to have served 3 terms in Japan as an
Uchi Deshi
- live in apprentice. He was awarded the
All Japan Outstanding Budoka Award 4 times
in Japan for significant contributions to Japanese Budo.
He is the only non-Japanese ever to win the elite
All Japan Invitational Karate Championships
4 consecutive times in Japan. He is a graduate of all 4 levels of
International Instructor Training Programs
and holds high rankings in Jujutsu, Iaido, Iai Jutsu, Karate, Buki Jutsu and Kobujutsu. Mr. Viol has trained extensively with and taught high ranking members of the
All Japan Self Defense Ground Forces Division of the Japanese Army
. He is one of only a handful of Westerners who has a Dojo and teaches Martial Arts in Japan. In 1977, Mr. Viol was sent by the Hombu Dojo to establish a branch Dojo in Michigan.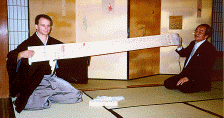 In 1991, at a special ceremony in Japan Mr. Viol was presented with the highest level Martial Arts teaching license available, the coveted
Menkyo Kaiden
shown to the right being presented in Kyoto Japan. Also at that time in Japan, Mr. Viol was awarded the title of
Shihan
- Master Teacher by a panel of his peers. In 1997, Viol Shihan was given the title of
Cultural Ambassador
and appointed the sole United States representative for the
All Japan Sogo Budo Federation.
Each year, Viol Shihan returns to Japan to live with his family, teach and train. He travels extensively to learn authentic Japanese Martial Arts from the highest living sources available today. He is diligent at keeping up to date with current events and developments within the traditional Martial Arts community there. He brings that information back and passes it on to his students at the Sei Shin Kan Sogo Budo Dojo in Rochester Hills Michigan. Viol Shihan has no other job. He has always made his living by instructing the Martial Arts 7 days a week. He has devoted his life to the study, practice, promotion, preservation and teaching of authentic Sogo Budo.
JOHN VIOL SHIHAN - UCHI DESHI IN JAPAN
Read excerpts from the book
CLICK HERE TO SEE THE VIOL SHIHAN PHOTO GALLERY - FULL COLOR PICTURES OF TRAINING AND TEACHING IN JAPAN WITH INSTRUCTORS AND FRIENDS.
Note: These pages contain full color photos and may take time to load. Please be patient until all photos load.
SEI SHIN KAN SOGO BUJUTSU / BUDO DOJO RELATED LINKS