SEPTEMBER 1997
ELECTRONIC NEWSLETTER
STUDENT EDITION
JAN 97
FEB 97
MAR 97
APR 97
MAY 97
JUN 97
JUL 97
AUG 97
SEP 97
OCT 97
NOV 97
DEC 97
1998

Thursday September 4th, 1997
Saturday, September 20th, 1997
Saturday, September 28th, 1997
---
---
During the month of September at the Sei Shin Kan, we are going to make sure that everyone is observing proper uniform etiquette. The Sempai have been instructed to check the condition of the uniform upon your arrival at the Dojo. This means that they will check to see is being transported to the Dojo properly and if the uniform is clean, pressed, and in proper condition.
After the uniform is put on and before you enter the Dojo, the Sempai will check to make sure that the uniform is being worn properly. They will check the Zubon - pants, to make sure that they are the right length, that the draw string is secure and tied properly, and that the pants have been pressed so that the creases are on the sides. They will check the Uwagi - jacket, to make sure that the left lapel is over the right lapel, that the sleeves are the correct length and that the strings, for those Uwagi that have strings, are tied properly and secure. The Obi, or belt, will be checked to see if it has been tied properly which means that it will be criss-crossed in back and the knot will form a small arrow facing to the left, and any names or rank markings will be on the left end of the belt, and that both ends of the Belt are even. Remember that all under garments must be white only. Female students must always wear a round neck, plain white T-shirt under the Uwagi. Headbands and wristbands are permitted as long as they are white. No jewelry of any kind is permitted to be worn with the uniform except for wedding rings. Students who wear glasses should wear a retainer.
Inside the Dojo during training, the Sempai will remind everyone that it is not proper etiquette to allow your uniform to remain disordered. It is inevitable that your uniform will become disordered during training, and when it does, your Sempai will remind you that it is not proper etiquette to face your partner or face the front of the Dojo when you rearrange it.
After training your Sempai have been instructed to check and make sure that you fold the Gi properly and transport it home correctly.
Some additional things to remember are that the uniform must not have any markings on it except for rank stripes and a student's name on the Obi. This means that you must remove the brand name labels that came with the uniform and belt. It is permitted to bring the uniform to the Dojo after you have cleaned and pressed it, on hanger, but when you take it home it must be folded properly and transported in your equipment bag. When you get home the uniform should be unfolded and washed as soon as possible.
Unlike most other martial arts schools, the Sei Shin Kan is very serious when it comes to the Keiko Gi. You are here by forewarned that if any of the rules of etiquette pertaining to the uniform are not followed, you will not be permitted to train until everything is in order.
We recommend to all students, regardless of rank or experience that you wear a heavyweight or double weave uniform. All students with the rank of brown belt and up are required to wear only heavyweight or double weave uniforms at all times.
More detailed information regarding the uniform can be found in the Sei Shin Kan uniform task sheet handouts or by asking your Sempai or Sensei. Be on guard and be prepared to have your uniform checked.
Please send us your comments.
---
Several years ago I proposed that we keep a running catalog of everything we do at the Dojo. This catalog would be made available to all students for research and reference at anytime. Imagine having access to complete and constantly updated visual and written records of every technique and subject covered in every class. There was no problem cataloging things in written form but it was a major pain and expense to get accompanying pictures and graphics to go with those records. That problem has been resolved with the purchase of a new Digital Camera that allows us to capture everything and instantly input it into the computer where we can combine it with the written notes. The Camera is a Canon Powershot 350. You can learn more about it on the Internet by going to this URL - http://www.powershot.com/350/. You may have seen some of us taking shots with it after classes recently. We have made available copies of those shots to students in the Karate, Jujutsu and Kama courses. If you are in one of the courses mentioned and did not get your printouts, please see Jones Sensei or myself. We will have shots for the Aikido, Iaido, Goshin Jutsu and Children's Budo courses soon. Imagine having detailed photos to go along with the notes in your notebooks. Imagine no more.

For those of you with computers, I am exited to share with you a full color electronic version of parts of the Dojo Catalog. It is a bit interactive and even customizable. It has hyperlinks that instantly take you to the page or technique that you click on. It was made in PageMaker 6.52 and exported into PDF format. If your computer can read the PDF format, let me know and I will send you the file. The file will take a while to download but I think you will agree that it is worth the wait. To view the file, you can download the FREE viewer from at the addresses below.
From ADOBE Internet site - Free copy of Adobe Acrobat Reader 3.1
For novices
http://www.adobe.com/prodindex/acrobat/readstep.html
For experienced users - Get Reader 3.1 32 bit version with search
http://www.adobe.com/prodindex/acrobat/alternate.html
From ZDNET SHAREWARE SOFTWARE SITE
http://www6.zdnet.com/cgi-bin/texis/swlib/hotfiles/info.html?fcode=0005OH
It is well worth your time to get this FREE viewer as all Dojo Catalog files will be eventually saved in this format. Let me know as soon as you can view PDF files and I will send you the file. A copy for your review is also on the computer at the Dojo. Check it out and please give me some feedback on it. I would like to thank everyone who has made donations towards the camera - John Parks, Stephen Munoz, Tim & Elliott Stephens, Mark Szof, Jason Piotrowski, and Cheryl Jarzombek (If I missed anyone, please let me know right away). Your generosity has made a long time dream project become a reality. Anyone else who would like to make a contribution towards the camera and memory cards, please see Jones Sensei or myself. Your support will be noted in the Catalogs.
---
Aaron Nepper is one of our finest students who had a dream to go to Japan to live and train. His dream came true! He is now in Japan for about a year or two. He sent us some messages the other day that I thought I should share with you. He will be busy but will get homesick so please have contact with him even if you are not acquainted with him. He may be able to help you with a similar dream someday. Let's get together and send him a care package from home. If you are interested in helping, let me know.
Hello from Japan,
I have finally been able to see a dream come true. Everything is wonderful so far, and I am having a terrific time. At the university they have Karate, Judo, Kyudo, Kendo, Aikido clubs which unfortunately do not resume until the 26th of Sept. Please include your address and I will gladly return your Mail. My home address is:
Aaron Nepper
1-14-19 Kakeage
Minami-ku
Nagoya, 457 Japan
Keep in touch and continue to train hard because I miss training with all of you.
ATTN. Jones Sensei please post this mail for all students, especially Sensei and all other Sensei and Sempai. Arigato gozaimashita.
---
WHAT: Concealed weaponry tactics part 2 seminar on the Te no Uchi - a small handheld rod with a cord attached to it tied in a special way.
WHEN: Sunday, October 5th, 1997. Pre-register on or before 10/04/97.
TIME: 2:00 PM
WHERE: Sei Shin Kan(r)
WHO: Anyone & everyone. No experience necessary. Invite your friends & family.
FEES: $10.00 per person for those who have a Te no Uchi and attended the first private introduction. $25.00 per person - includes one Te no Uchi - for first time participants. FREE to Students who bring a first time participant and to all Sei Shin Kan(r) Deshi.
BRING: A friend
WEAR: A standard M/A uniform or clean, comfortable street clothing.
INSTRUCTOR(S): JOHN M. VIOL Shihan, Joel Cohen Shidoin and Michael Trader Shidoin.
IMPORTANT: Advanced registration is a must!
MORE INFO: See Jones Sensei, myself or click HERE to visit our Te No Uchi Web Page.
---
September is Uniform Awareness Month at the Sei Shin Kan. To commemorate the event, SAKURA is having a sale on our top of the line heavyweight uniforms. I wear only the best heavyweight uniforms available all year round. So do most of your Sempai and Sensei at the Dojo. We hope that you will too. See Jones Sensei in the Store soon and she will help you make the right selection.
Please send us your comments.
---
Our Mats get a lot of use and have served us very well. Think about having to train without them! I would like make sure they continue to serve us for a very long time. With that in mind, please consider rotating either all or sections of the mats more often to distribute the wear and tear. This should be done as often as possible. Your Sempai/Sensei/Deshi will be glad to show you how. Don't wait to be asked to do it. You can do it yourself and/or with the help of a few other fellow students. Remember that the Sei Shin Kan is OUR Dojo. We must all share with the necessary tasks. Please remind each other to rotate the mats next time you come in to train. Thank you in advance for your support.
---
Yogo is the Japanese term for vocabulary. The terms we use for our commands and techniques when we train are a specialized form of internal Jargon. Do not just consider them to be merely Japanese terms. Consider it as if we are communicating with a unique code. This code is fundamentally universally accepted and used in nearly all legitimate Japanese martial arts schools and styles. It is one of the most important things we have in common with other Dojo. During the month of October, you will hear a lot more Dojo Yogo used during classes. The Deshi/Sensei/Sempai have been instructed to check everyone's Dojo vocabulary so please get out your manuals and notes and review. To help you with the vocabulary, we have two Dojo Yogo manuals, audio cassettes, and a video tape flash card system. We are working on a computer flash card system and will let you know when that is available. Jones Sensei has put together a reduced price list for our vocabulary study aids. Order yours soon.
---
The Sei Shin Kan Instructor Training Program is in the final stages and candidates will graduate the intensive course in December. At the end of the course, all candidates are required to physically present their final mandatory projects. All students are invited to attend these presentations. Come and see what these specially trained individuals have achieved. The schedule is below. You must reserve a seat at these presentations in advance. See Jones Sensei or myself now.
10/12/97 - Personal Style Creation
10/26/97 - Modern Weapon Design
11/09/97 - Training Device Design
11/23/97 - Significant Contribution to the Martial Arts
12/07/97 - GRADUATION - A very special formal event
All events are on Sunday and start at 2:00 PM. The next I.T.P. will begin in February of 1998. Students interested in the program should see myself Jones Sensei or any I.T.P. Graduate.
---
The following are some of the dynamic upcoming seminars that I will be giving. All of them are open to anyone and everyone. Please attend and tell a friend. Advance registration is a must!
ACTION COMBAT KEYCHAIN - October 4TH BOLIARD'S Martial Arts School. Starts at 1:00 PM

TE NO UCHI - October 5th at the SEI SHIN KAN. Starts at 2:00 PM.

GROUND FIGHTING - October 18th at the CHUDOKAN AIKIDO DOJO CANADA. Starts at 2:00 PM

KATA BUNKAI SEMINAR - October 29TH IN OHIO MIKE DUNPHY DOJO. Starts at 6:00 PM

SUNTETSU - November 22nd at the CHUDOKAN AIKIDO DOJO CANADA. Starts at 2:00 PM. FIRST TIME IN CANADA!
For more details on all events, see Jones Sensei, myself or the flyers in the student entranceway. Don't forget to get your Student Register signed when you attend any of our events.
---
There will be an Iaido Dan test on October 19th at 2:00 PM at the Sei Shin Kan. Scheduled to test are Scott McKeighan Sensei for Sandan, Kevin Hough Sensei for Nidan, Rick Brady Sensei for Nidan and Dan Confer for Shodan. The test will feature test cutting with real swords. ALL students are invited to attend but you must reserve a spot in advance.
---
| | |
| --- | --- |
| | OMEDETO GOZAIMASU! Daniel Confer and Kent Blackwell did an excellent job and passed their Jujutsu Shodan test on September 21st. Please congratulate them when you see them. Pictures and a video is available for those who could not attend the examination. Their Enbu were great! |
---
Beginning in January 1998, ALL Sei Shin Kan students may participate in a program to receive rank and proficiency certification in classical Japanese weaponry. This is a one year program in which you are required to attend all of the Classical Weaponry Series courses which include Bo Tonfa Sai Nunchaku Kama and one specialty weapon of your choice. During the course of the year you will take examinations and be ranked in each weapon individually. You must acquire 6 basic proficiency certificates to receive the final Weaponry certification which is equivalent to a Shodan in any other Martial Art. Higher proficiency level certification is available after that. If you would like to participate in this program you must register NOW! For more details, see myself or Jones Sensei.
---
Two new advanced weaponry Kata courses are scheduled for each Sunday in November and December starting at 12:30pm. The course will focus on the advanced Kata and introductory Bunkai. You must have been taught Bo and Tonfa basics to participate. Only top quality Bo and Sakura's Best Tonfa may be used. The schedule is as follows:
November 2,9,16,23 - ADVANCED BO KATA - Suichi no Kon
December 7,14,21,28 - ADVANCED TONFA KATA - Kata not chosen just yet
The fee is $25.00 per person, per course. The Bo class is limited to 18 people. Advance registration is a must. Sign up for both courses at the same time and deduct $10.00. There is no cost for SSK Deshi.
---
A very big DOMO ARIGATO GOZAIMASHITA to everyone who has donated towards out new Digital Camera. Your support is the reason that the Sei Shin Kan sets the standards for others to follow. Anyone else who wishes to contribute should see Jones Sensei or myself. If you have not seen sample printouts of the shots taken with our new camera for the Dojo Catalog, please ask and get your copies to put in your notebook
---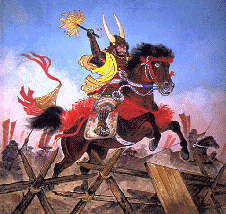 A sample of one of the original calendar prints by Ebine Shundo
Our new, popular, one of a kind Sei Shin Kan Martial Arts Calendars are almost ready. Again, we have another brand new W.R. Hocking Collection of 12 original works of art featuring a sword based theme. We also have a brand new calendar featuring 12 original works of art from the late Japanese artist Ebine Shundo featuring warriors in full armor on horseback. Each calendar features a warrior quote, phrase or poem for monthly Budo inspiration. Only 40 copies of the W.R. Hocking collection will be made and signed by the artist. Only 25 copies of the Ebine Shundo collection will be made. The Staff and many of the seniors have already placed their advance orders. The cost of the calendars have not yet been set. Some proceeds from the Ebine Shundo collection will be forwarded to the Yasaka Inari Shrine in Japan. Order your copies before December 1st to get them for Christmas gifts.
---
The Sei Shin Kan has expanded. Earlier this year, we received permission from our Hombu Dojo in Japan to start branch programs of our regular programs at other locations. So far, we have 4 branch program locations.
Jujutsu - taught by John Parks Sensei at the Chudokan in Canada on Monday night
Jujutsu - taught by Gary and Aaron Nepper at the Washidokan in Sandusky MI on Tuesday and Thursday nights
Jujutsu - taught by Dan Confer Sempai at Berkshire Middle School in Birmingham on Tuesday and Thursday nights
Iaido - taught by Gary and Aaron Nepper Sempai at the Washidokan in Sandusky MI on Monday and Tuesday nights
Iaido - taught by Greg Boliard Sempai at Boliard's Martial Arts School in Canton MI on Tuesday Thursday and Saturday
We are working on putting up a schedule. In the meantime, you can can contact the Instructors below for more info or leave a message for them at the Dojo.
Greg Boliard Sempai - (313)397-7010
Gary Nepper Sempai - (810) 648-5945
Dan Confer - (248) 642-3282
All Sei Shin Kan Students have an open invitation to participate in any of the classes offered at our branch program locations. The same invitation is extended to all students of our branch programs to come and train at the Sei Shin Kan. All we ask is that you call first to let us know when you wish to attend.
---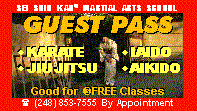 In response to the many students who have mentioned that a family member, schoolmate, co-worker, or friend have expressed an interest in the classes at the Sei Shin Kan, we now have a GUEST PASS for them. The Guest Pass is good for 3 FREE Introductory Classes of their choice. They can take all 3 classes in the same style, or try 3 different styles as they wish. If you give someone a Guest Pass and that person or persons come in for the three free classes, you will receive 10 Dojo Dollars to use towards any classes at the Sei Shin Kan. If that same person/persons sign up as a regular member in any of our programs, you will receive a certificate for one free month of primary training at the Sei Shin Kan - a $60.00 value. This does not also include cross-training. This offer is valid for each and every person who takes advantage of the Guest Passes. All Guest Pass users must schedule an appointment for the classes of their choice. See myself or Jones Sensei for more details.
---
In the Children's Sogo Budo program this month, Sarah Davis was promoted to Hachi Kyu and Alexander Cherup was promoted to Kyu Kyu. OMEDETO GOZAIMASU! Great Job! Now train hard(er) for the next one!
---
The next Iaido Kyu Rank Examination is scheduled for Monday night October 20th starting at 7:45 PM. All non-Iaido students are invited to come and watch.
Please send us your comments.
---